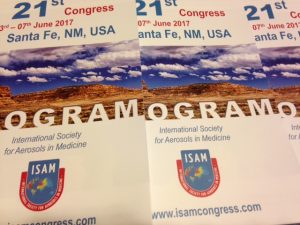 The 21st Congress of the International Society for Aerosols in Medicine (ISAM), held in Santa Fe, New Mexico June 3-7, 2017 featured presentations and posters covering recent advances in a wide range of topics related to aerosol drug delivery, including novel methods of modeling, trends in device design, and new therapies, and several new devices were on display in the exhibition.
Awards
On the first day of the meeting, ISAM recognized emerging scientists, presenting the Young Investigators Award to Tony Zhou of Purdue University, and the Student Research Award to Yu-Wei Lin of the University of Sydney and Monash University. Yan Ostrovski of the Technion -Israel Institute of Technology and Benjamin King of the University of Iowa were named as 2nd and 3rd place winners of the Student Research Award.
Yu-Wei Lin was also declared the winner of the "Best Oral Presentation" for a talk on his poster titled, "Pulmonary and Systemic Pharmacokinetics of Colistin Following Administration of Dry Powder Aerosols in Rats," after participating in a competitive session on the first day of the meeting. The session featured 6 presenters selected by an ISAM committee based on their poster abstracts.
The other finalists who participated in the session were:
Maria Acosta, "Improvement of the In Vitro Aerosol Dispersion Performance of Simvastatin by Co-Spray Drying with D-Mannitol for the Treatment of Pulmonary Hypertension"
Mohammed Abdelrahim, "Impact of adding training device to familiar counseling on inhalation technique in asthmatics"
Chong Kim, "Empirical model for conveniently predicting total and regional deposition of inhaled aerosols"
Alan Watts, "Novel Inhaled Voriconazole Formulation for Pulmonary Aspergillosis"
Tony Zhou, "Developing dry powder inhaler formulations of combinational antibiotics via particle engineering for the treatment of respiratory infections"