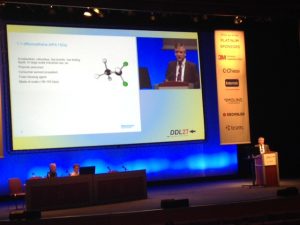 Following the signing of an international phase-down agreement regarding fluorinated gases in October 2016, pMDI propellent supplier Mexichem stated that it "does not believe the recent Kigali Amendment to the Montreal Protocol, nor regulatory controls such as the European F-Gas Regulation or US SNAP, will affect the availability of HFA medical propellants in the foreseeable future."
At the same time, the company said, it "continues its studies into methods of further reducing the environmental impact of MDI, including the development of reduced GWP medical propellants that will meet the demanding requirements of pharmaceutical and environmental regulation, and maintain the performance benefits associated with existing products."
During the Thursday afternoon session celebrating "60 Years of the pMDI" at DDL 27, Tim Noakes and Stuart Corr of Mexichem discussed the potential of one such more environmentally friendly, propellant for use in pMDIs at some point in the future.
While Mexichem says that HFA 134a and HFA 227ea will continue to be available for the foreseeable future despite continued phasedowns specified by recent climate change agreements, Noakes and Corr presented data suggesting that a different hydrofluoroalkane has features that may offer significant advantages to some pMDI developers.
That compound, 1,1-difluoroethane (HFA 152a), is currently used as a consumer aerosol propellant, as a polymer precursor, in air duster products ("canned air"), and as a foam blowing agent. Using HFA 152a as a propellant, Mexichem said, would reduce the carbon footprint of a pMDI to approximately that of a DPI.
In recent years, some pMDI developers have noted that HFA 152a might have potential as a pMDI propellant but that it also has potential safety hazards that would need to be investigated, including toxicity and flammability.
In their talk, Noakes and Corr described their ongoing investigation into both the performance and safety of HFA 152a for use in pMDIs and presented the data available to date.
In testing conducted by Jag Shur and Rob Price of Nanopharm, an albuterol (salbutamol) sulfate suspension in HFA 152a showed nearly identical APSD to an albuterol suspension in HFA 134a, and the HFA 152a suspension exhibited much more consistency in emitted dose, with very little variation from the start of the can to the end of the can.
The suspension stability of albuterol in HFA 152a was shown to be superior to formulations with HFA 134a alone and HFA 134a with ethanol. Whereas the time to sediment for albuterol in HFA 134a was less than 0.5 minutes, time to sediment in HFA 152a was 2 minutes.
For many products, the company says, solution formulation will be relatively easy, and HFA 152a may also enhance the chemical stability of certain active ingredients.
According to Mexichem, inhalation safety studies and MDI manufacturing safety studies are underway, with flammability studies already completed. Although HFA 152a is slightly flammable, it is not categorized as a volatile organic compound in the US, and Noakes points out that it is less flammable than some currently marketed MDI formulations that contain ethanol.