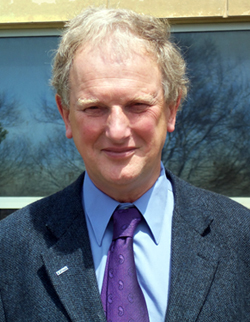 Jolyon Mitchell has long been a leading voice in OINDP development and analysis through numerous publications and through service to multiple organizations, including EPAG, and contributions to pharmacopoeias including the USP and Ph. Eur. He plans to retire from his current position with Trudell Medical International in September 2013. This is the first article in a 3-part series.
Q: How many years have you been working on OINDPs?
A: I've been with TMI for 19 years; before I came to Canada in 1994, I had 15 years with the UK Atomic Energy Authority investigating the role of aerosols in relation to severe nuclear accident studies. From as far back as 2001, I was involved as an American Association for Pharmaceutical Sciences (AAPS) representative with working groups forming part of the Product Quality Research Institute (PQRI). I've been working with EPAG since late 2002 and as a Scientific Adviser to IPAC-RS since 2009.
Q: Do you plan to remain active in the OINDP field after your retirement from TMI?
A: I'm retiring at the end of September. Afterwards, I shall still remain on the USP General Chapters committee where I am increasingly taking over from Tony Hickey leading the Aerosols sub-committee, as he moves towards retirement. I also hope to remain an IPAC-RS advisor, and I'm in the process of finalizing arrangements to become an affiliate professor at the University of Hawai'i-Hilo in their Daniel K. Inouye College of Pharmacy.
This is a new school and I'm planning to teach medical aerosol physics for their Pharm. D. and Ph.D. students. The Hawaiian Islands are a firm favorite for myself and family, as we've been vacationing going there for the last few years. Recently, I've gotten to know the group at the College of Pharmacy there, and this will give me an opportunity to teach, which is what I've wanted to do for a long time; to move from industry into academia.
An advantage of moving out of an employee position is that I can be seen by stakeholders to have a more neutral role to play in the ongoing development of the inhaler-based chapters of the pharmacopoeias. In summary, I think the planned transition will be good for everybody in my professional circle, and I hope to become a source of knowledge of the topic of inhaler testing that people can tap into. I'll still be in Canada in the summertime, as this is where my family reside.
Q: You've recently been involved with publication of a book on cascade impaction, correct?
A: Yes, in early May, Springer published the book "Good Cascade Impactor Practices, AIM and EDA for Orally Inhaled Products." It's an IPAC-RS venture covering good cascade impactor practices (GCIP), efficient data analysis (EDA) and abbreviated impactor measurement (AIM) concepts.
Drs. Svetlana Lyapustina, Terrence Tougas, and I co-edited 14 chapters presented in about 470-odd pages, and in addition to our own contributions, we had 21 expert co-authors complete the text. The intention behind its creation was to provide basically a one-stop shop for anybody using a multi-stage cascade impactor, so there's a lot of stuff about the basic method as well as these extensions. I contributed to part of every chapter but my major interest in that book is really in the good cascade impactor practices chapters and those involved with abbreviating the impactor to make it easier to use in the laboratory.